A cat's worst nightmare must be having fleas. The best flea collars for cats are reviewed in this article. You should feel confident that you can choose an effective flea collar that will suit the needs of your cat, after reading this article.
Best Flea Collars For Cats - Reviews
Our Recommendation is...

1. Seresto Flea & Tick Collar
When buying a cat flea collar there are three things that you need to take into account
1.Effectiveness and Safety 2.Budget 3.Convenience.

For all of these reasons we have chosen the Seresto Flea Collar as our first choice.
The Bayer Seresto collar is not greasy and the slow release of the active ingredients makes it hard to beat.Put it on and forget about it. Of course do remember to check for any skin reactions in the first few days of wearing.

The ingredients are released continuously over the eight month period life span of the collar.The upfront cost may be higher than other flea collars however this collar works continuously for 8 months which makes it a good economical option.
Handy Tip : Don't throw away the old flea collar. Pop it inside the vacuum cleaner. The Seresto collar may last longer than 8 months so here is a chance to kill fleas as they are vacuumed.

You are getting a quality product with the safety aspect of a release mechanism that allows the cat's own strength to widen the collar and act as a quick release if your cat become entangled.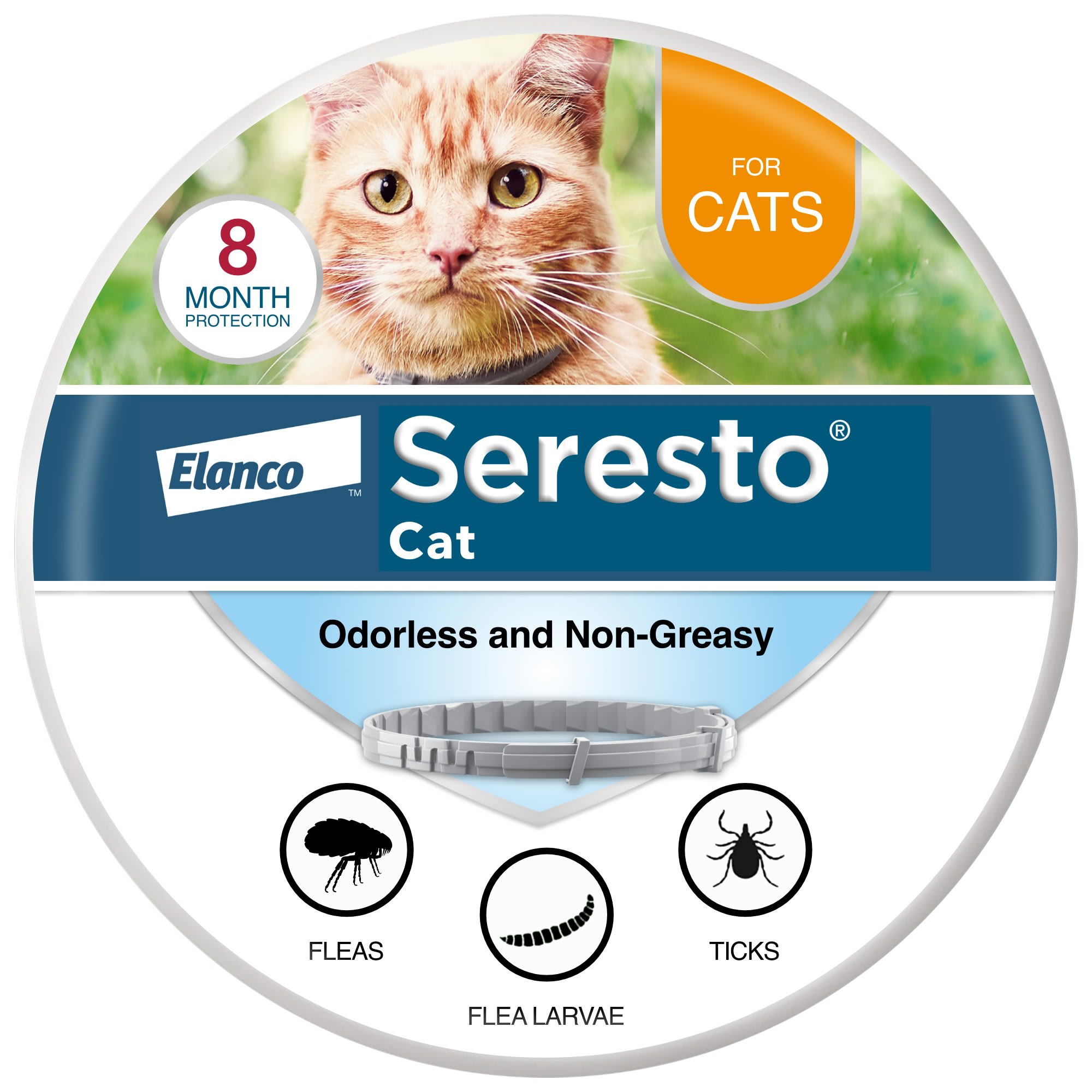 The Best Flea Collar For Cats - Things To Check
* Look for a collar that has a breakaway aspect or a safety catch. This is a safety feature so that if the cat becomes entangled, the collar will break away with the cat's body weight.
* Check to see if the collar is water resistant or if the effectiveness of the collar will be lessened if the collar gets wet.
* Check the length of time that the collar remains effective and record the expiry date. Those 'use by' dates seem to creep up and the expiry date can come and go and be forgotten. For this reason buying more than one collar at a time is an option.
How To Fit A Cat Flea Collar
Are Cat Fleas Dangerous To Humans?
Cat fleas can cause redness and itching often around the feet and ankles on humans.
It is not a pretty sight and those bites are extremely itchy. The best way to avoid this is to keep the cat and house free of fleas.
Fleas are an irritant to the cat and can cause discomfort but can also be responsible for medical conditions such as flea bite anemia, tapeworms and dermatitis.

Children can be exposed to these parasites by playing with flea infected cats.
These concerns should be taken seriously.
The best flea collars for cats are the traditional flea collars however sometimes you may be looking for alternatives to traditional flea collars that use chemicals to kill fleas. You can make your own flea collar using essential oils. Is it going to be as effective as the best flea collars for cats reviewed on this page? You need to look at in the same light as other natural products which mainly act as deterrents to fleas. A natural product will help keep the fleas away, it won't kill an infestation.
TIP: Write the expiry date of the flea collar on a calendar, a few days before the collar expires, which gives you time to purchase a new one before the old one loses effectiveness.
How Long Are Flea Collars Effective?
That will depend on the brand you buy and is also reflected in the cost.

The best flea collars for cats may cost more to purchase initially however they are longer lasting therefore you will not need to purchase as often. The cost divided by 8 months becomes more reasonable.
Collars last from one month to 8 months depending on the brand.
Note: Don't be surprised if you initially see more fleas after putting a flea collar onto your cat. This does not mean that the collar is not working. The fleas will rise to the top of the coat as they die. Remember to treat other areas of your home for fleas, eg cat bedding, carpet, scratching post and so on.
For more information about the fight against fleas in cats, these articles may be helpful.

Cat Flea Drops Are Easy To Apply

What Flea Treatment Is Best For My Cat?