The best cat nail caps are:
a) easy to apply and
b) do the job they are designed to do.
Okay looking cute is in there too but working as expected and being easy to apply is what we are looking for.
By the way there is a detailed list of Pros and Cons in this article about cats wearing nail caps. If you are still sitting on the fence about using cat claw caps we suggest you read the article first.
Some items reviewed may not be available. In some instances it is because stocks are low and more are expected. Low stock could also be due to the disruption Covid-19 has had on manufacturing worldwide. In some cases, manufacturing has been halted. We are continually checking product supply and offering an alternative if feasible.
Best Cat Nail Caps Reviews

#1. VICTHY - Soft Pet Cat Nail Caps 5 Random Colors
Best Budget Purchase
The image shows all the different colors available. When this product is purchased you will receive 5 random colors plus the applicators and glue.
These detailed instructions on the back of the packet explain exactly how to apply the cat claw caps. As with anything new it will become easier with practice.

These caps are a good budget buy and include a generous number of cat nail caps so this should give you a good idea if this is something you wish to continue.

Plus the number of caps means that if you make a mistake there are still plenty left. This is a good starter kit.


PS I like the idea of multi colored nails. That way if you do have some rejects it won't matter or mess with needing an exact amount of one color. You can always graduate to one color once you have the technique mastered.

---
2. Soft Paws Clear Cat Nail Caps

Premium Product
This is a premium product and a trusted brand. The pack contains just one color choice of caps however there are different color packs to chose from. In this example the caps are clear.

Other colors include, pink, pink sparkle, blue, blue sparkle, red, pink and black.
Love the orange and black Halloween caps. These would look sensational on black kitty.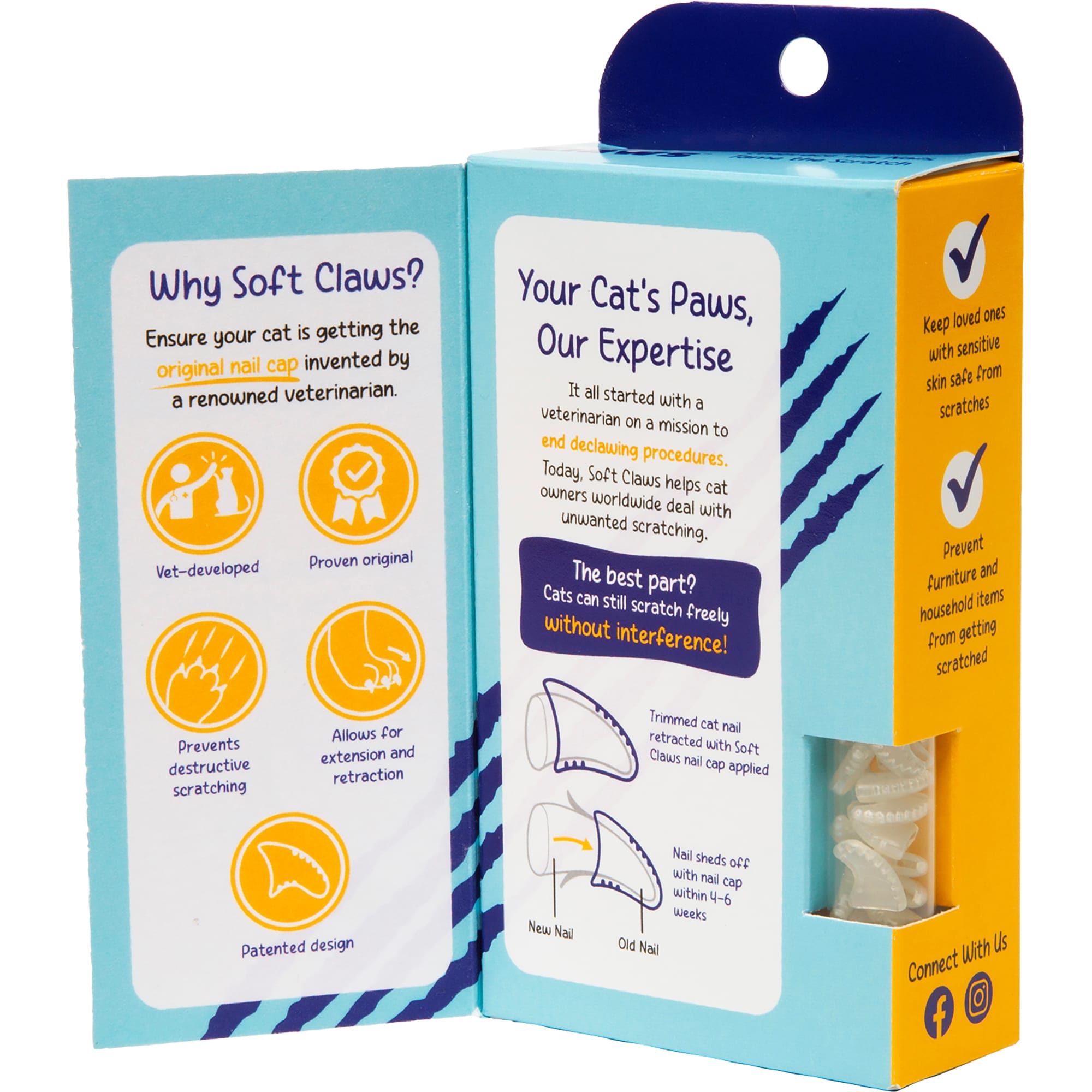 ---
3. Well & Good Green & Purple Glitter Kitten Nail Caps
These nail caps are for kittens and are size small. There are other size and color combinations.
Kittens and children go hand in hand. Eliminate any fear the kids may have of being scratched by the kitten so the kitten and the kids can play together. No more tears or scratches.

The glue is included plus applicator tips.
There are 20 of each color caps, 20 green and 20 purple.
Wrap little kitty in a towel so that he feels snug and secure and it will help to prevent persistent kitten wriggling while the caps are being applied.

---
4. Purrdy

Purrdy Paws is an American company.
These caps were designed by a veterinarian.

Let's face it, no one wants to declaw cats. That is, as we know an outdated practice. There is more information here about declawed cats.

No one wants to be scratched or have furniture ruined either. Not all cats will scratch furniture but a god many will.


These caps have some fabulous themes, for example, Valentines day, Halloween, Rainbow, USA, Bling and more. There are also 4 different sizes.
The best nail caps for cats are safe and non toxic. If the cat swallows a cap it will pass through the digestive system.
Purrdy Paws is an American company.
---
5. Ninery Ave Soft Pet Cat Nail Caps
Cheap Option - Have a Go
These caps are made from an environmental PVC and are non toxic.
These caps nails are a good option if you are still undecided. There are 20 pieces in the pack and the glue required.

Although they are a good budget option there is a fantastic color choice for color coordinated kitty or let's dress up kitty.
---
6. Kitty Caps


Kitty Caps are available in four sizes, x small (cats under 5 lbs), small (cats 6-8 lbs), medium (cats 9-13 lbs) and large (cats over 13 lbs). The cpas are made from a non toxic vinyl resin.
Any lingering uncertainty or nervousness about applying caps can be solved by having the caps applied by a veterinarian or groomer.

You will be able to see it being done first hand and that will be very helpful the first time the caps are applied.
Our Recommendation

#1. VICTHY - Soft Pet Cat Nail Caps 5 Random Colors
What color would you choose if you were a kitty?

VICTHY 100 PCS Soft Pet Cat Nail Caps Cats Paws Grooming Nail Claws Caps Covers of 5 Kinds 5Pcs Adhesive Glue Medium Size
【Perfect Nails Caps】We support replacement or 100% refund.

【100% Safe】Our soft nail caps and adhesive glue have passed the EUs SGS environmental certification, non-toxic, durable, Natural, comfortable, will not interfere with your cats normal behavior.

【Multifunction】Protect your homes and furniture against destructive scratching by applying soft claws nail caps to the cats nails.

【How to Use】Firstly trim cats nails to fit the nail caps properly, then fill the nail caps with glue, then extend the cat claws softly and put the caps onto nails, finally observe the cat for several minutes before release the cat to make sure the nail covers are attached closely. NOTE: Dont trim kittens nail.

【Package included】100pcs cat nail tips in 1 Pack with 5 Adhesive Glue and 5pcs Applicators. 5 Different Colors Random, If you need to take the nail caps off from your cat claw, use nail varnish remover.
How To Apply Cat Nail Caps

Choose the correct size for your cat or kitten. All of the products will specify the approximate size you will need. Most cat nail caps come in small, medium and large and may also specify the weight of the cat. Nail caps that are too large, will come off.
To start, trim the nails of the cat. The video below shows how to trim a cat's nails. Do a couple of claws at a time if the cat is not too keen on having his claws trimmed.

Don't Overfill The Caps With Glue

Fill the caps ⅓ with glue. Take care with this. Avoid having an overflow. You may want to wear some rubber gloves. If glue does get on the cat's fur it can be removed with nail varnish remover.
Let the caps dry before letting the cat disappear. This is a good time to pull out a kitty treat or give the cat a massage using a pet message glove.
When you do let the cat go observe the cat to make sure that all is okay. It is normal to expect that a cover may fall off. If they continually fall off check that the size you have isn't too big.
More Cat Nail Caps

| | Title | Price | Buy |
| --- | --- | --- | --- |
| | YMCCOOL Cat Nail Caps - Glue +Applicator + Instructions | | Check Price |
| | Kitty Caps Nail Caps Humane Alternative to Declawing | | Check Price |
| | zetpo Cat Claw Caps for Cats - Glue + Applicator | | Check Price |
| | VICTHY Cat Nail Caps with Glue and Applicators | | Check Price |
| | Soft Claws for Cats | | Check Price |
| | Purrdy Paws Soft Nail Caps for Cat Claws | | Check Price |
Prices and images pulled from the Amazon Product Advertising API on:
More Information About cat nail caps and declawing a cat

The Pros and Cons Of Nail Caps For Cats

The Facts About Declawing Cats