We know that our cats love perching, sitting, or reclining in a high location.
Cats Love High Places
A high location enables the cat to check out what is happening in the hood without being observed.
I can't count the number of times I have been walking the dog, (visiting doggie) down the lanes and I see a cat jump to a high vantage point. The cat watches us walk past. Nine times out of ten, the dog does not see the cat, but the cat always sees the dog. Clever cats.
The cats either scurry off or watch us walk on past, ready to take off if necessary. I never give away their location.
Secret Cat Business!
We discourage cats from jumping up onto kitchen benches and counters, especially while preparing food, but it isn't always easy.
Who knows what they get up to while we are not at home? Even in the middle of the night, a soft thud, lets me know that the cat has just landed from who knows where.
Cat wall shelves are the solution.
Wall mounted cat shelves provide high spots in our homes for the cat to survey all that is going on. Providing a comfy high vantage point may deter jumping on bench shenanigans.
Kitty should thank the creators of wall mounted cat shelves for this brilliant idea.
Installing cat wall shelves will require some DIY expertise.
1.On2Pets Cat Canopy Wall Shelves
The rectangular and round shapes, including fake foliage for kitty to hide behind, is such a brilliant idea.
Cats love to observe but they also like to be incognito and survey what is going on from a top secret position.
Are you thinking that your cat might nibble at the leaves?
Apparently other people have wondered about this possibility too, however cats are not attracted to the fake leaves (which are made from silk).
The shelf is covered with padded carpet and proves to be a cosy resting place for a cat to have a snooze or watch from up high.
Your cat will love these shelves.
The shelves come in sets of two. Please read all the instructions for installation to avoid making placement mistakes. Decide beforehand where you will locate the cat shelves. Make sure that the shelves will be a practical location in terms of access for the cat.
The product includes two wall-mounted cat shelves. This is not a window sill perch; this is designed to be installed on a wall. If you are looking for cat window perches, there is more information here.
Even though this product has been designed and tested to handle up to 50 pounds, the manufacturer recommends not exceeding 32 pounds in weight.
These cat shelves are made in the US.
Pros
Cats love these shelves. The foliage is undoubtedly a drawcard.
The shelves are an economical option.
As the leaves are silk they have a more realistic look than fake plastic leaves.
Cons
Some DIY skills are needed to attach to the wall.
You will need to purchase different hardware if drilling into a brick wall.
Specifications
The four metal L brackets and screws and instructions are included for installation. Choose which basic shape you prefer. These different shapes are rectangular, round and box. The shape shown is the round shape. The foliage also comes in different colors so if green doesn't suit your décor there is also a choice of Fall, Plum and Summer. The box design has low plywood walls (6 inches) with one part open for easy access and fake grass lining the box. The box design does not have foliage. The different design options all have an overall length of 22 inches. All of the shelves are designed to take up to 32 pounds. For indoor use. Note: The mountings were originally plastic however they are now metal brackets.
---
2.Trixie Lounger Wall Mounted Cat Shelves
Look carefully at the photo to see what is included with this set of shelves.
This package of cat furniture includes a cat hammock, two steps and a cat condo that is lined with faux fur.

So basically there are two places for the cat to hang out. If she just wants to lounge, the hammock is the best spot to observe what is happening but if a good old deep snooze is needed the condo may be the best choice.

The steps are not cat perches but steps to reach the hammock and condo.
Note: Even if your cat is senior and can no longer access high places, there is no reason that these cat wall shelves and others mentioned here couldn't be placed a little lower to allow for easier access.
Each part has some sisal rope component so scratching is accounted for. These are terrific shelves for cat napping.
The hardware is included for secure wall mounting. The instructions are available in PDF format and are both in diagram and written form.
Pros
It sits unobtrusively on the wall and takes up less space than a cumbersome cat tree.
Cons
Handyman skills are needed because of the ability to locate studs in the wall. Some people struggled, and others did not.
You may also need additional anchors and screws. If at all unsure, ask someone with handyman skills to assist with setup.
Specifications
The 4-piece kit includes two steps, a condo and a hammock.
The surfaces are covered with plush and sisal to encourage scratching.

The condo includes a cushion that can be removed for washing. The condo measures 16.5 x 11 x 11.25 inches. The hammock measures 22.75 x 11 x 12.75 inches. The step measures 7 x 7 x 8.5 inches.

The color combination is cream and gray and mounts securely between 12″ and 16″ wall studs, hardware included.
---
3. The Refined Feline Lotus Branch Cat Shelf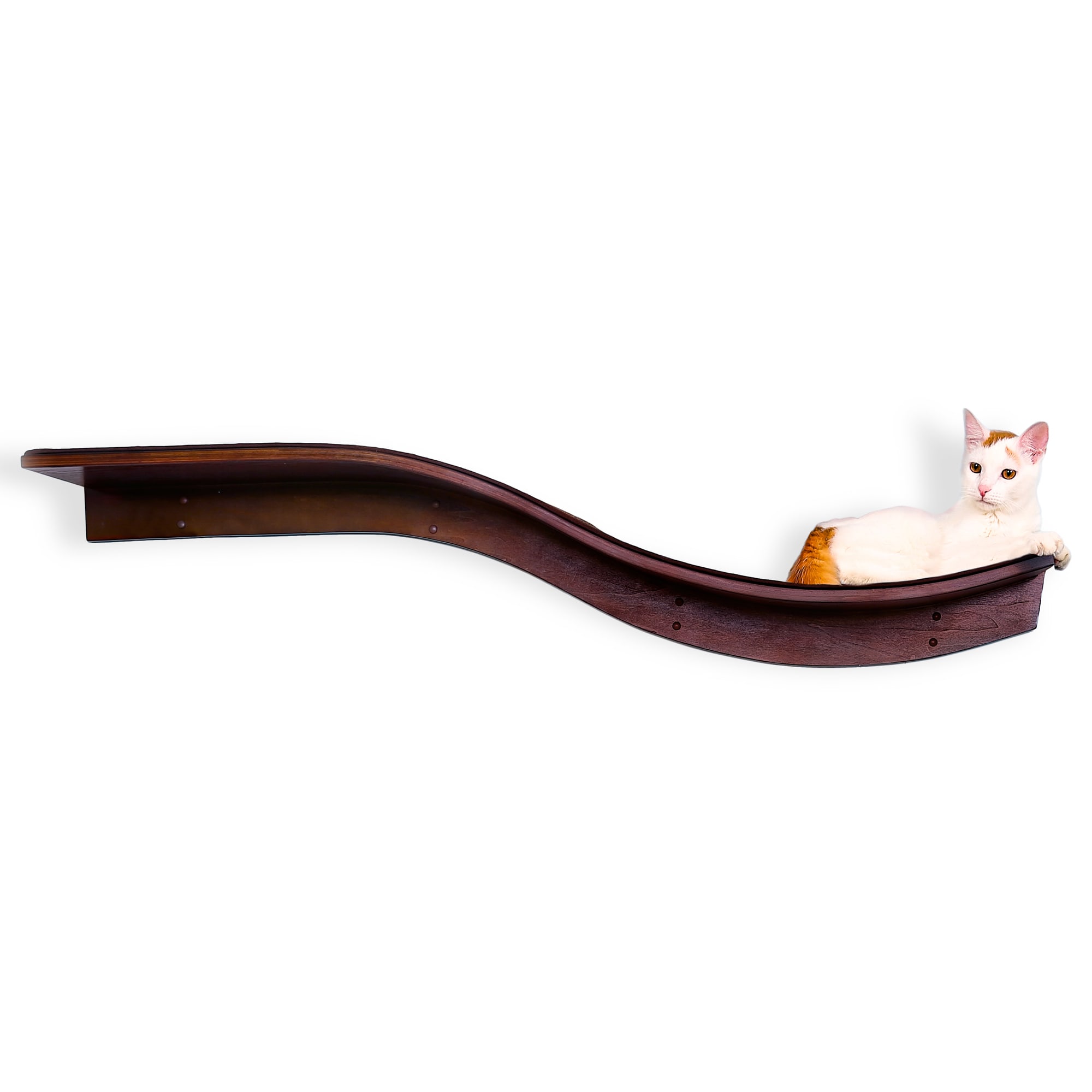 The design of the Lotus Branch cat shelf and its smaller cousin below the Lotus Leaf cat shelf is clever, simple, and elegant. Without a feline friend, it would not look out of place on a wall, and with a cat, the reason for the shelf is obvious.
The cat shelf is made from solid wood and bent ply to achieve the curved shape.
This is a high quality piece of cat furniture; the shelves are sturdy and solid. As with any wall-mounted cat shelf, ensure that it is attached to the stud wall for strength and safety reasons.
One cat owner had the brilliant idea of installing this shelf between two tall cat towers. Great idea for a multi cat household.
The shelf is covered with comfortable Berber carpet, which is easily replaceable if it becomes worn.

The carpet is attached with Velcro which makes it easy to replace.

The white Lotus Branch Shelf is covered with faux white fur.
Pros
This shelf does not obviously look like a cat shelf.
Cons
Recommended to have two people for set up.
Specifications
This cat shelf, at 61 inches long has plenty of room for the cat to fully stretch out. The depth is 10.5 inches and the height is 12 inches.

Screws and wall anchors are provided. The shelf shown is the Mahogany Shelf. The same shelf is available in Smoke, Espresso and White.

Mahogany and Espresso are both brown; however Mahogany has reddish undertones whereas Espresso is a darker, deeper brown. The shelf weighs 14 lbs.
4. The Refined Feline Lotus Leaf Cat Shelf
The Leaf Cat Shelf is the smaller cousin of the branch reviewed above.
The branch and the leaf do complement each other and look great together, however both are perfect as standalone cat wall shelves.
There is always the possibility to buy one and then another later. Apart from the size, as already outlined, the other features are the same as the Refined Feline Lotus Branch Cat Shelf.
The carpet can be replaced when it eventually wears out. The carpet is attached to the shelf with Velcro like fasteners.
Pros
The design does not make this obviously a cat shelf.
This Lotus Leaf Shelf is smaller than the Lotus Branch, so it would fit where there is less wall space.
Cons
Installation is best done by someone with knowledge of DIY.
Specifications
The measurements of this shelf are 22 x 10.5 x 9inches. The shelf is made from solid wood, layered ply and is covered with Berber carpet. This shelf is espresso which is a dark, rich brown.
5. Art Of Paws Cat Shelf
The cat will love this shelf and can settle in for a nap on the soft, synthetic wool cover that is provided. If kitty is more of a scratcher than a a relaxer, there is also a fibre cover which is designed to be scratched. Kitty can scratch to his heart's content.
A great way to catify the house without surrendering style. A practical idea for bedrooms, particularly if you're trying to keep the cat off the bed.
Each shelf comes with everything needed to mount to the wall, including screws and wall anchors.
Pros
Ideal for placing near a window where the cat can see outside.
Sturdy and easy to install (may depend on the experience of the installer).
Cons
The combination of a very large cat, about 30 pounds, and the shelf in a very high location where the cat has to jump and land heavily on the shelf is not a good combination.
Opt for a shelf that has a support bracket underneath for this type of scenario.
Specifications
The shelf measures 16 x 12 x 5 inches and is curved as can be seen in the image. The two covers, the soft, synthetic wool cover and the fiber cover are both included.
Screws, wall anchors and instructions are included. The color of the shelf is dark brown.
---
6. RayCC Cat Shelves Furniture
This is a set of three shelves. The part of the shelf that the cat sits on is made from Oxford cloth or mesh fabric.
The cloth can't be removed for washing but can be spot cleaned if necessary.
One of the best things about this cat shelf system is that you can choose exactly how you want to place the shelves—closer together, further apart, and so on. Adjustments in planning can be made for the height, age, and agility of your cat.
If your cat is older, place the shelves lower on the wall. Senior cats still like to sit high but are not able to do so because they have lost the ability to jump about as they did when younger.
These cat wall shelves also work well as steps leading to something else for example a lotus shelf.
They are easy to install and the screws and anchors are provided. You will need to drill holes. The shelves can support up to 22 pounds or 10 kg.
Pros
Three shelves are included.
As well as being standalone shelves, they also work well as steps leading to a larger shelf, giving the cat options.
Cons
Although these cat wall shelves can support up to 22 pounds, cat owners have remarked that they are best suited for smaller cats, as a larger cat may be unable to stretch out.
Specifications
There is the choice of a mesh fabric or an Oxford cloth. The shelves measure 13.78 x 6.69 x 1.97 inches.
When installing ensure that the brackets sit flush against the wall. Each bracket needs two screws, one screw at the top and one at the bottom of the bracket.
The brackets and screws are included.
---
We Like…
1.On2Pets Cat Canopy Wall Shelves
The best cat shelves, in our opinion, are the on2Pets Cat Canopy Wall Shelves. There are two shelves included. The price is reasonable. They are made in the USA, which is currently more than ever a positive point.
We love the faux branches. Knowing how much cats lie to remain unobserved, the faux branches allow that to happen and give the cat the ability to be on the wall incognito. The branches can be removed if the cat is not a fan.
This is a good choice, practical and affordable, and one of the best cat perch setups for the price. They will also suit any situation, whether you live in a one room apartment or a large home.
You can also gauge how well your cat or cats adapt to the perches. If it is positive, it may well be something that you think about using in other rooms.
As the owner of an indoor cat, providing different places for your cat to view their world is a happy result for your cat or cats.
---
Benefits Of Cat Wall Shelves
Physical benefit For The Cat
There is the obvious physical benefit for the cat obtained by having to reach the cat shelf, where the lounging can then take place.
Space Saver
If space saving is a priority, cat wall shelves will take up less space than cat wall towers but achieve a similar result.

Cat wall shelves are an excellent solution for small spaces.
Not Keen On Cat Trees?
Are you someone who is not keen on the appearance of a cat tree? They can be cumbersome and take up floor space.
Cat wall shelves are the prefect solution. There is a huge variety of cat wall shelves. There is no reason why you would need to limit yourself to cat wall shelves in just one room.
Integrate Well With Home Decor
Shelves for cats can easily be integrated with the décor in your home. Cat wall shelves are made from a variety of materials, for example, wood or metal, and accessorized with fabrics such as Oxford cloth, carpet, or faux fur.

Some cat wall furniture doesn't look like cat furniture but more like stylish shelves on a wall.
Can Easily Expand and Add more Cat Wall shelves
Cat wall shelves are not a one size fits all approach. Extra cat wall shelves can be added if necessary, to provide more climbing options for the cat.

You can design what is going to suit your home and your cat.
Consider having a cat tree against a wall with wall mounted shelves accessible from the cat tree.

Another option is to have two cat trees with a shelf, such as The Lotus, in between.

How you arrange the shelves and even the number you need will depend on how many cats you have.

We do tend to think of the shelves as being good for a living area but they are also a practical idea for bedrooms.
Caters For All Age Cats
The needs of different cats can be taken into account. A senior cat still likes to survey the world from afar but may need cat shelving that is easily accessible and perhaps not as high as a younger, more agile cat.

Some shelves will definitely hold larger cats like a Maine Coon, and we know those large Norwegian Forest Cats love to climb, so their size needs to be taken into consideration.
More Cat Shelves
Image
Title
Price
Buy

Top

Top

Top

BAYKA Floating Shelves Wall Mounted, Rustic Wood Wall Shelves Set of 3 for Bedroom, Bathroom, Living Room, Kitchen
Check Price

Top

Top

Top

CAT WALL FURNITURE WOOD WALL SHELVES DARK WALNUT COLOR
Check Price

Top

Top

Top

Greenco 5 Tier Wall Mount Corner Shelves Espresso Finish , 7.75" L x 7.75" W x 48.5" H.
Check Price

Top

Top

Top

Scurrty Cat Shelf Curved Wall Mounted Cat Perch with 2 Different Mats Cat Wall Bed Modern Design Up to 35lb … (Black)
Check Price

Top

Top

Top

Tardo Wall-Mounted Cat Shelf Cat Houses Cat Hammock Cat Perch Wooden Bed Step Modern Cat Wall Furniture
Check Price

Top

Top

Top

Purife Cat Wall Shelves Metal (Set of 2), Wall Mount Cat Perch Window Sill Perch Strong Cool Cat Hammock Cat Kitty Lounge Bed Cat Climbing Shelf Cat Wall Steps Cat Wall Furniture for Relaxing Playing
Check Price

Top

Top

Top

Yokstore Wall Mounted Cat Scratching Shelves - Set of 7 Floating Sisal Cat Scratching Posts Steps with Cat Hammock Perches for Sleep Play Climbing Lounging Cat Supplies
Check Price

Top

Top

Top

HumaneGoods 19" Deluxe Cat Wall Shelf - Wall-Mounted, Floating Perch with 3X Replaceable Scratch Pads for Adult Cats
Check Price

Top

Top

Top

Art of Paws Cat Shelf | Cat Perch Cat Bed with Curved Cat Hammock Design | Elegant Wood Wall-Mounted Cat Furniture | A Gift Your cat Will Love
Check Price

Top

Top

Top

Scurrty Cat Shelf Curved Wall Mounted Cat Perch with 2 Different Mats Cat Wall Bed Modern Design Up to 35lb … (Black)
Check Price

Top

Top

Top

7 Ruby Road Wall Mounted Cat Hammock with Two Steps - Modern Beds and Perches for Cats - Premium Kitty Furniture for Sleeping, Playing, Climbing, and Lounging - Easily Holds up to 40 lbs
Check Price

Top

Top

Top

Purife Cat Wall Shelves Metal (Set of 2), Wall Mount Cat Perch Window Sill Perch Strong Cool Cat Hammock Cat Kitty Lounge Bed Cat Climbing Shelf Cat Wall Steps Cat Wall Furniture for Relaxing Playing
Check Price

Top

Top

Top

Here&There Wall Wood Cat Climber Cloud Shelf Board Mounted Cat Perch Kitten Climber Tree,Cat Ladder
Check Price
Product prices and availability are accurate as of the date/time indicated and are subject to change. Any price and availability information displayed on [relevant Amazon Site(s), as applicable] at the time of purchase will apply to the purchase of this product.
Prices pulled from the Amazon Product Advertising API on:
I'm so excited about this dear, although I won't show it.  I think the shelves are being delivered today.