What Is The Meaning Of A Self Heating/Warming Cat Bed?
A self-heating or self-warming cat bed is one that simply heats up as the cat sits on it or lies on top of it. Self-heating uses the cat's own body heat to warm the surroundings and create a cozy nest. That is what "self-heating" means.
Some self-warming cat beds include a layer of thermal insulation such as found in a space blanket, which is referred to as "metalized." It heats up with the cat's body heat and then reflects the heat back to the cat.
You have probably heard of a space blanket or emergency blanket. A space blanket works by reflecting the electromagnetic radiation emitted by the body back to the body, rather than letting it escape. This makes it an effective tool for keeping warm in cold weather.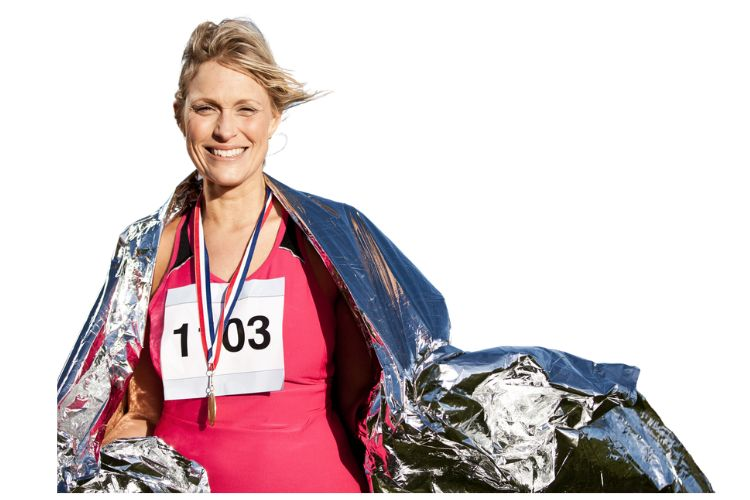 A self warming cat bed that does not contain these materials can still be just as effective because of the design of the bed or the fabric the bed is made from. An example of this would be a self warming cat cave bed that is made from 100% wool.
I have listed any of these relevant details in the specifications at the end of each recommendation.
Some Of The Best Self heated cat Beds Are:
A Self Heated/Warming Cat Bed Or An Electrically Heated Bed?
The difference is quite simply that when the cat leaves the bed, the plugged-in heated bed will remain slightly warm—10 to 15 degrees above ambient air temperature.
The self-heating bed will quickly cool when the cat leaves the bed, to the point where there is no heat at all.
Self Heating Cat Beds Reviews
1.  K&H Self-Warming Bolster Cat (or dog) Bed
This is a brilliant bed for the following reasons:
​Firstly, it is self warming because it has a layer of metalized insulation. This radiates the cat's own body heat back to him.
Secondly, it is easy for the cat to enter this bed. This is not so much of an issue for younger cats, but it certainly is for senior cats. Senior cats can walk in and plop down. Body heat is the only heat that is needed with this bed. These beds are often referred to as "self-warming."
​Let the insulation do the work.
​Thirdly, the bolster provides support for the cat while he is sleeping.
​This bed is not for a large cat.  It is recommended for small cats. It is totally machine washable.
​The shape of this bed is perfect, no corners, just right for the body of a cat.
Pros
This bed is perfect for a senior cat or older cat.
Cons
Recommended for smaller cats.
Specifications
The overall length is 14 inches, and the width is 17 inches.  Measure the cat if you aren't sure. Do a mock up with newspaper so that you can eyeball the size. Okay, maybe it is just me who needs to do that.
The colors available are grey and black or chocolate and tan. The fill material is polyester. For indoor use only. Machine washable.
2. K&H Self-Warming Lounge Sleeper Pet Bed
This self warming cat bed is made from polycotton. The inside is made from micro fleece for warmth and comfort.
​The underside of the bed is non slip. The polyfill is made from recycled plastic bottles, so double ticks for that.
​The warmth factor comes from the layer of metalized insulation in the pillow that warms with the cat's body heat and then radiates that warmth back to the cat.
​The bed is machine washable. Many consumers have mentioned that this bed has had repeated washings over several years and stood up very well.
​Give it a quick vacuum to keep it clean on a day to day basis and wash as needed. Line dry or use the non heat setting in the dryer.
Pros
This bed has softness and support, plus it is very easy to clean when needed.
Easy for cats to enter and exit.
Cons
It is not designed to suit outdoor temperatures in the winter.
Specifications
The colors available for this bed are gray/blue, mocha/green, and sage/tan. All of the color options are two tone. The bed is machine washable with cold water on the gentle cycle. The bed is 16 inches long overall and 20 inches wide overall. The overall height is 6 inches.
The sleeping surface length is 11.5 inches, and the sleeping surface width is 10 inches. It is a rectangle.
---
3.FurHaven Luxury Faux Fur Self-Warming Hi-Lo Donut Cat & Dog Bed
The self heating warmth factor comes from the space blanket material in the cushion base. The cushion is stuffed with insulating fibrefill and has a layer of Mylar thermal fabric. The sleep surface is insulating terry fleece.
The sides of the bed are extra deep and stuffed with an insulating high loft fiber. The tall walls also help with the warmth factor and the snuggle factor.
Like any cat bed, give it a good shake to get rid of surface debris and hair.
Pros
This bed provides lots of warmth to keep the cat warm.
Perfect for a cat that likes to nest and hide.
The faux fur makes a soft sleeping place.
Cons
The sides of the bed, whilst supportive are not super sturdy and may not remain upright.
Older cats may not cope with the higher sides. Look closely at the measurements.
Specifications
This bed comes in both small and medium sizes. The small size measures 20 x 20 x 12 inches. The medium size measures 23 x 23 x 15 inches.

There are three colors for you to choose from, sable brown, cream, and gray. The lovely, warm, rich brown shown in the image on this page is sable brown.

If possible, wash in a front-loading machine or by hand.
Don't use an agitator.
Don't use bleach or wring the bed.
Press out any excess water with a dry towel (you may need several) before drying on medium or low heat. Dry the bed completely before using it again.

---
4. Best Friends by Sheri Calming Shag Fur Donut Cuddler
This divine little bed is available in a variety of sizes to accommodate cats (and dogs) of all sizes—large, small, and in between.
​Because of the cleverness of the design and the incredibly soft materials used, the cat's body is cushioned and enveloped, giving support to the entire body.
The raised edge provides security, and the whole bed is soft and comfortable.
​The warmth factor comes from the design of the bed and the way in which the whole body is enveloped and supported. The material is faux fur, which is soft and inviting.
​This self warming bed is super popular for a good reason. If this was bigger, I'd be tempted to get in. Move over kitty!
Pros
Cats and dogs just love this bed.
Cons
If the center flattens after use, put it in the dryer and poof it back up.
Specifications
This bed comes in four sizes: small, medium, large, and X-large. The small size is 23L x 23W x 7H inches. Medium measures 30L x 30W x 9H inches. Large measures 36L x 36W x 10H inches. X-Large measures 45L x 45W x 11H inches.
Machine wash on a gentle cycle and tumble dry on low. Medium, Large, and X-Large have a zippered, removable cover. Machine wash the cover in the same manner as the bed.
A heated cat mat is another option in the heated beds for cats options. A mat allows the cat to fully stretch out as it has no sides. Our cat usually had body parts hanging out over the mat.
5. Amazon Basics Warming Pet Bed
This bed does use technology to assist the self warming process in the form of Mylar.
Mylar is the brand name however the name is now often associated with Mylar blankets that have thermal insulating properties.
The image shown is rectangular however it also comes in a circular shape and has different sizes options.
​This bed utilizes the properties of Mylar and reflects and retains the cat's own body heat in a similar way to the K&H self heating cat beds.
​This is a well made bed with a sturdy construction.
​There are ongoing comments regarding washing this bed. The instructions say do not wash, but countless people have washed the bed; after all, a pet bed will need washing at some point.
Some people prefer to purchase a new one when required, the reasoning being that pet beds usually do not survive too many washings. It's a personal choice.
One suggestion was to use a front-loading washing machine in preference to an agitator machine and dry on the low setting. This means the bed is being treated gently throughout the washing and drying process, and this has been successful.
The bed can safely be spot cleaned.
​It is adorably cute with its faux sherpa fleece and supple corduroy cover.
Pros
This bed uses Mylar as heat insulator.
Cons
The cleaning of the bed has been a topic of debate. Despite this, the overall satisfaction with the bed is good.
Specifications
The bed measures 35 x 27 x 11 inches. Washing instructions and comments are above.
6. K&H Self-Warming Kitty Hooded Bed – Hood is Removable
Having a removable hood is a good option.  Most cats are fine with a hood, but if yours isn't, off it can come as it attaches with a zip.
The self heating factor comes from the metalized material, which reflects the warmth generated by the cat's own body heat back to the cat.
​This bed is made for comfort in addition to warmth.  It has a soft and comfortable cushion and soft side walls for added comfort.
​Two sizes are available: 16 inches in diameter and 20 inches in diameter. Note that the inside measurement will be slightly less than this.
Cons
The zip attaching the hood comes undone.
The hood may not stay up well.
Specifications
This bed comes in two sizes, small and large. You have two colors to choose from – chocolate/tan and blue/gray. The small bed is 16 inches diameter and 5 inches high. The large bed is 20 inches diameter and 6 inches high. The cover can be removed and machine washed.
Maybe you have decided that you would rather have a heated cat bed. This article describes in depth, the features of different products to help you make a choice.
Our ​Top Choice is…
1. K&H Self-Warming Bolster Cat & Dog Bed
​​​Why have we chosen this bed? This bed has it all for a self heating cat bed. It does have insulating properties to assist in making the bed as warm as possible.
The design is practical. A low front entry coupled with a sturdy but comfortable bolster. The curved shape of the bed is perfect for a cat to snuggle in and lounge into the shape.
The classic colors would suit any decor, modern or traditional.
K&H have an outstanding track record with making bed and mats for pets.  There is a one year limited warranty with this product.
Another way to keep cats warm is to use a microwavable heat pad specially designed for cats. Quick, easy and safe and perfect to up the heat factor in a self warming cat bed.
Compare Prices-Best Self Heating Cat Bed
Product prices and availability are accurate as of the date/time indicated and are subject to change. Any price and availability information displayed on [relevant Amazon Site(s), as applicable] at the time of purchase will apply to the purchase of this product.
Prices pulled from the Amazon Product Advertising API on:
Have You Thought About A Heated Mat/Pad For The Cat?
Are heated cat mats/beds safe? 
Can heated cat beds be left tuned on?  
Is there a timer? You need to have peace of mind about safety when buying a heated cat bed.
This articles does address everything you could possibly ask about heated cat beds.
The Best Self Heated Cat Bed