The best flea shampoo for cats will work instantly to get rid of fleas. ​Top choice for us is Natural Chemistry as it works and works straightaway. It is also a choice of professional pet groomers. This article will give you all the information you need about different flea shampoos, their pros and cons.
| | |
| --- | --- |
| # 1.Natural Chemistry Fast Acting | |
| | |
| 3. Advantage Unscented Product | |
| | |
| | |
| 6. Sentry PurrScriptions Budget Choice​​​​​ | |
Best Flea Shampoo For Cats Reviews
#1 Natural Chemistry

Fast Acting
​As the name suggests this is a natural non toxic product and does not contain any pyrethrins. The Active ingredients are Dioctyl Sodium Sulfosuccinate 8.4%, Undecylenic Acid 2.0%.
To use, mix one part shampoo to three parts water. Apply this mixture to the dry coat of your cat until your cat ​​is totally wet. Rub into the coat until a lather is built up and after five minutes rinse off. ​
​Hint: Have some kitty treats or kitty distraction toys at the ready.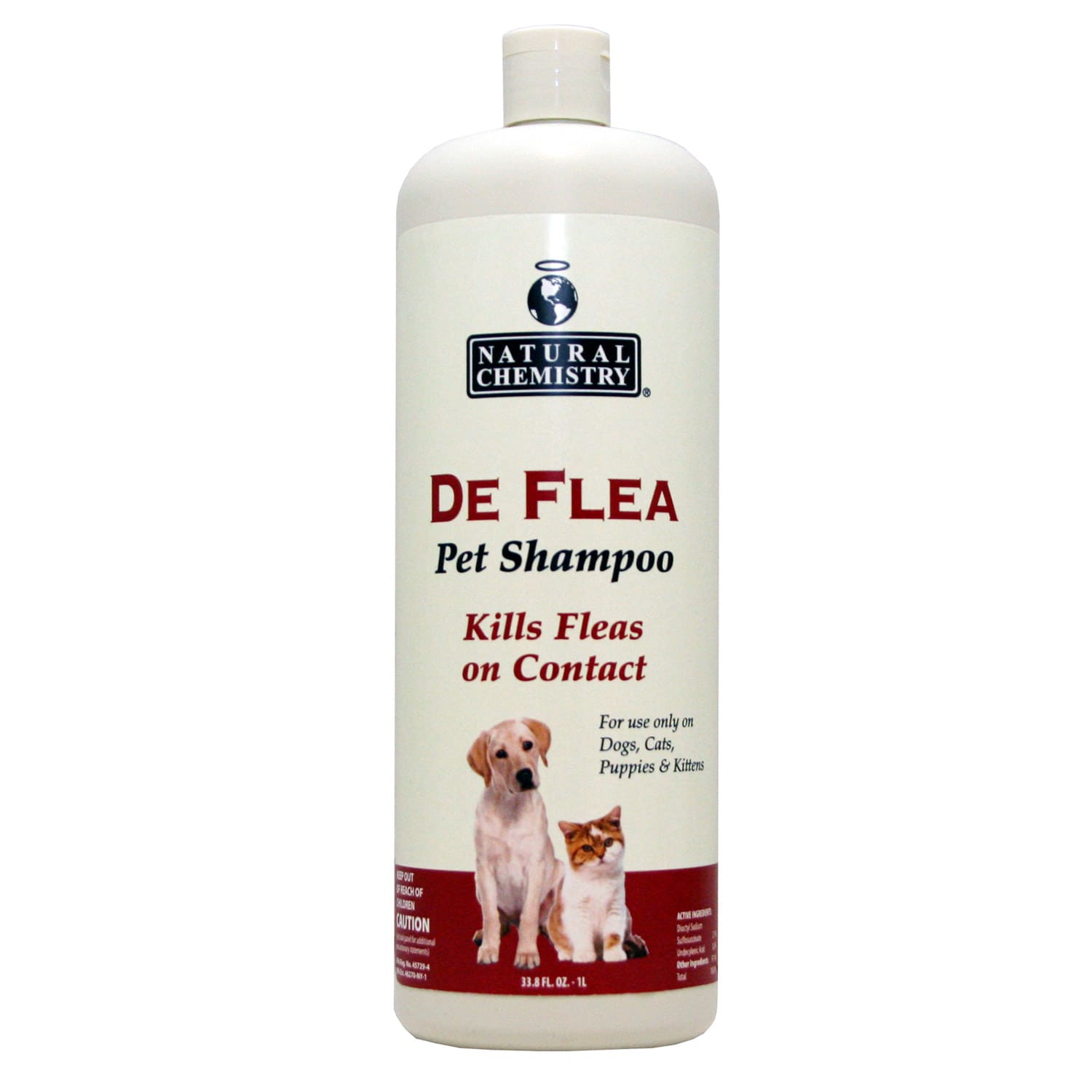 2. Adams Flea & Tick
Always Reliable
The main ingredients continue to kill flea eggs for 28 days to break the life cycle.The shampoo can be used for cats and kittens over 12 weeks.
​Apply the shampoo​, lather over the whole ​cat for 3 to 5 minutes. ​This may seem a long time in kitty minutes so some distractions in the form of a toy or treat is a worthwhile standby.
It contains aloe, lanolin, coconut extract and oatmeal to leave the fur shiny and clean.
It is recommended that you wash your hands after using this shampoo although it is okay to use bare hands when applying to your cat.
If you are intending to apply a topical treatment after using this shampoo it is recommended that you wait 24-48 hours.
The ingredients are Pyrethrins: 0.15%, S-Methoprene: 0.10%, Piperonyl Butoxide: 1.88%.
​

3. Advantage Flea & Tick Treatment

Unscented
This shampoo can be used on cats 12 weeks and over. It is unscented and designed to kill fleas and ticks on contact.
It can be used once every seven days if needed. ​

When shampooing ​pay special attention to the base of the tail and between the toes and the belly area. Take care when washing the head and ears to avoid getting the product in the cat's eyes.

Wrap kitty in a towel for a couple minutes to absorb moisture and it will also mean that dying fleas and ticks can crawl off onto the towel. ​
The active ingredients are 0.150% Pyrethrins, 0.300% Piperonyl Butoxide, 0.479% mgk 264 Insecticide Synergist.
​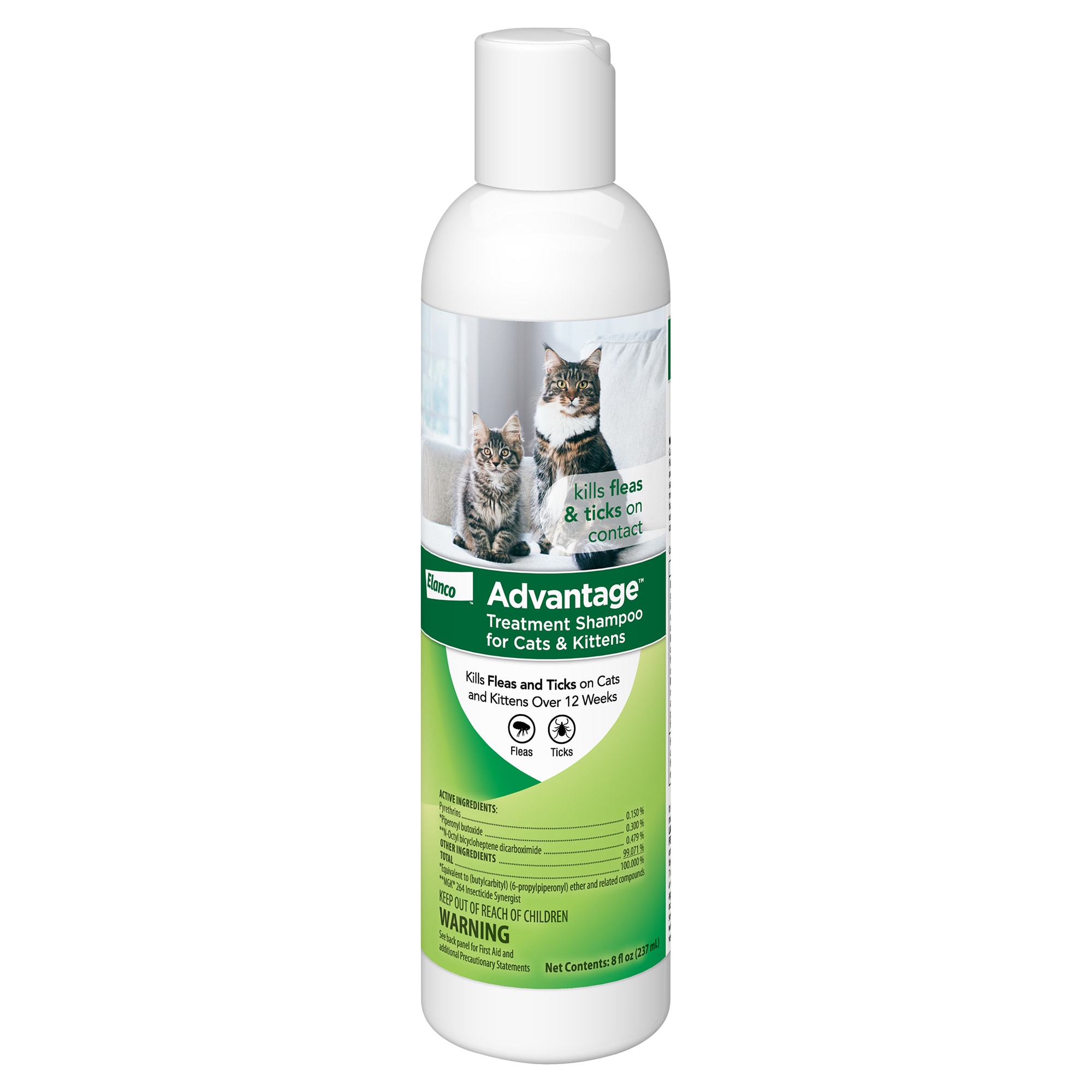 4 Vet's Best Waterless Flea & Tick Cat Bath Foam
Waterless & Chemical Free
The best flea shampoo for cats does not necessarily have to be a shampoo using water. This treatment is a water less and chemical free foam shampoo that does not have to be rinsed and it works very well.
It kills fleas, ticks and flea eggs on contact. Good for those cats who run for the hills when confronted with a bath.

It is suitable for cats 12 weeks and older.

It is recommended to do a spot test one hour before treatment to be on the safe side and keep an eye out for any sensitivities during that time.

To use, apply to your hand and massage one section at a time. There is no need to saturate the cat. No rinsing is required.
​
This bath can also be used as a preventative measure.
This is 100% plant based. The active ingredients are Peppermint Oil 0.20%, Eugenol 0.46%, and Sodium Lauryl Sulfate 1.78%.

Tip: Also good to use in cold weather when it may be too cold for kitty to be wet.
A good option for cats that object to water.

5. Espree Flea & Tick Cat Shampoo
Sensitive Skin
​​We know that too much bathing can make skin dry and itchy however this shampoo ​conditions the coat and has a lovely scent, that's a bonus.
Suitable for cats and kittens over 12 weeks of age.
Many positive reviews for this product talking about its effectiveness. Note, if you have a long haired cat you may need to repeat this procedure.

To use, first wet the coat, apply the shampoo and lather. Rinse well. I just like to emphasize that last point. Do make sure that the product is fully rinsed. Refer to the video below detailing how to give a cat a bath. It has some handy tips.

​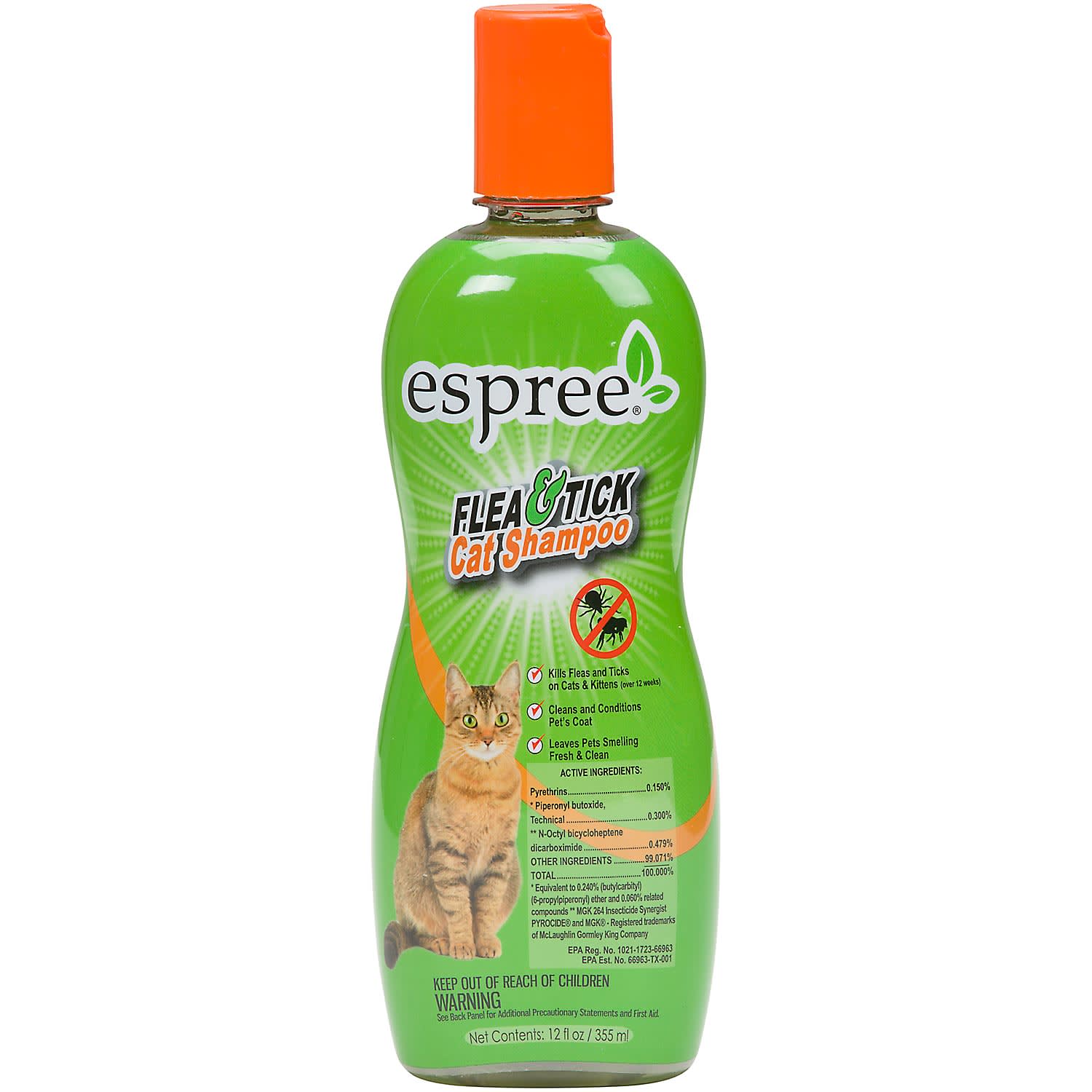 6. Sentry PurrScriptions
Budget Choice
Sentry PurrScriptions kills fleas, ticks and flea eggs while it cleans and deodorizes in one easy and convenient step.
This rich, conditioning, non-staining formula contains a highly effective flea and tick killing ingredient combined with an insect growth regulator (IGR) that sterilises new fleas and kills their eggs for up to 30 days.
Safe for use on kittens over 8 months old.
​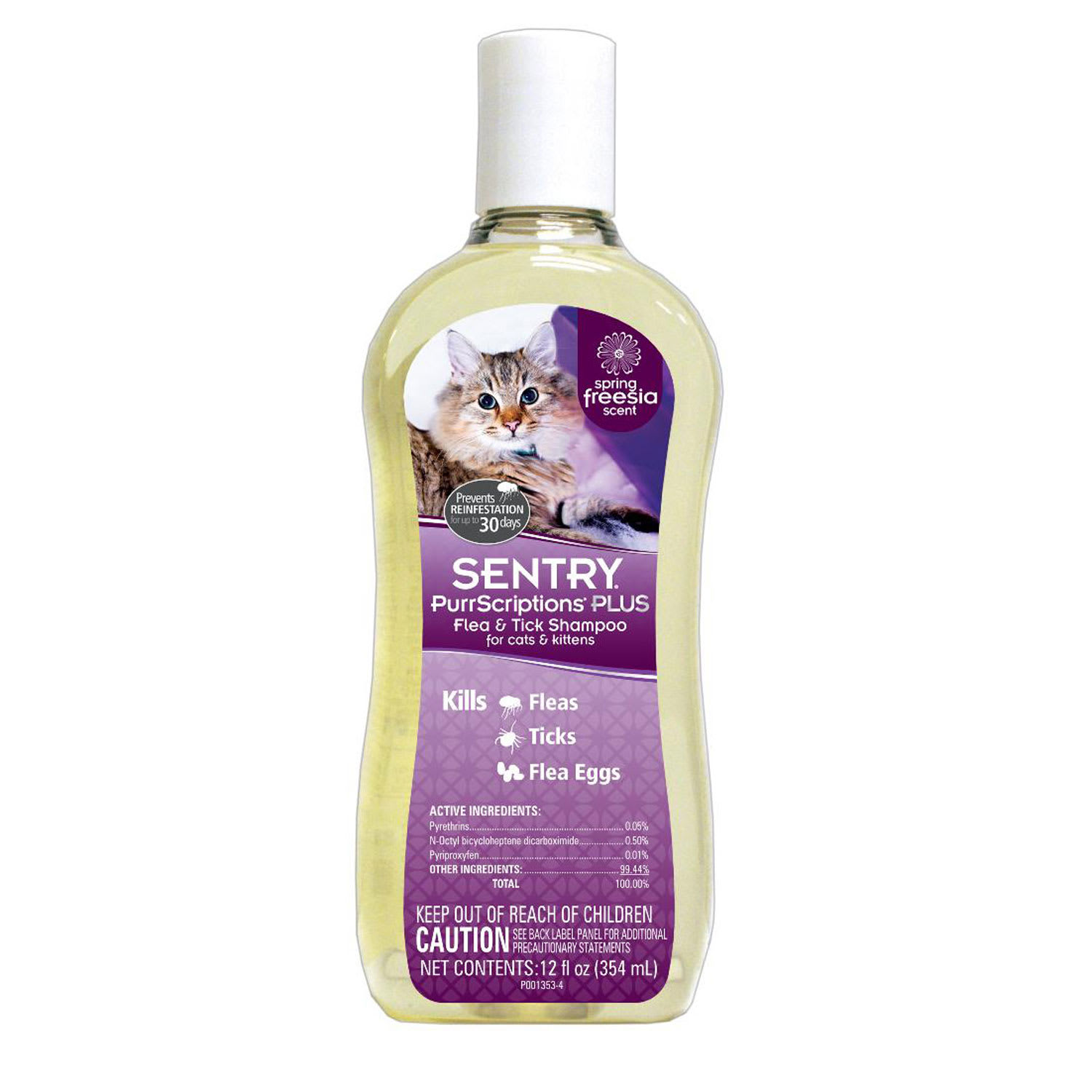 Our Recommendation For the Best Flea Shampoo For Cats is ...

#1.Natural Chemistry De Flea Shampoo
Natural Chemistry De Flea Shampoo​ is rated most highly by us in terms of effectiveness and popularity and consistently performing well.

​There are no pyrethrins in this product. It is safe for people and pets.
It won't wash out any spot flea and tick products that may already be in use. It also works on ticks and lice.
| | |
| --- | --- |
| # 1.Natural Chemistry Fast Acting | |
| | |
| | |
| | |
| | |
| 6. Sentry PurrScriptions Budget Choice​​​​​ | |
Why Use Cat Flea Shampoo?
Cat flea shampoo is easy to use, has ​immediate results and as a bonus the shampoo is rinsed out straight away so there is no chemical residue left behind.
Also, if the infestation is very bad it is a very quick way to get rid of most of fleas. I hesitate to say all fleas, as it can be difficult to kill them all.
If your cat reacts to the chemicals in flea collars or flea drops, shampoo ​would be a good alternative. Try not to get shampoo in your cat's eyes, we don't like shampoo in our eyes and your cat won't either. Plus you want to make this a positive experience 🙂 so that it can be repeated when necessary.
Many flea shampoos for cats also contain a conditioner to leave your cat's fur soft and luxurious.
What Does Cat Flea Shampoo Do?
Some cat flea shampoos will only kill adult fleas.

Although that might give the cat some immediate relief and it might be cheaper, it is better to purchase a shampoo that will kill the fleas and the flea eggs.

You do need to work the shampoo right into the fur. ​The temperament of your kitty may determine the effectiveness of the method. Because the cat may squirm, an odd flea or two might survive the dunking.

​Be aware that all the chemicals are washed away after shampooing so there is no ongoing, long lasting flea protection​.
Does Cat Flea Shampoo Work?
​Yes, it works straightaway but there is no long lasting protection.

If you want "instant" ​definitely use shampoo and then you can review your options. It also depends how bad the flea infestation is. If it's really bad, you just want them gone straightaway and flea shampoo for cats will do that.

For the flea shampoo to work effectively, always start shampooing at the head, avoiding the eyes and move down the body. This is to try and prevent any fleas from jumping to the neck or head area.

Let the shampoo sit for a couple of minutes before rinsing carefully.
How Often To Use Flea Shampoo For Cats?
​Mostly cat flea shampoo can be used monthly however you will need to read the product information for the flea shampoo that you purchase.
​ My Cat ​Hates Water
Some cats l​ove water but we don't usually associate cat and bath, in the same way that we ​associate, dog and bath. This may be something that you won't possibly really know until you have tried ​giving your cat a bath. We are not talking about a long soak here, short and sweet is the key to success.
The video below gives specific instructions to make the job ​easy. ​We would suggest that it is preferably a two person job if this is an option for you.
It might not be a walk in the park bathing your cat, or you may be lucky and have a placid kitty cat that doesn't mind some time at the beauty ​salon.
How To Shampoo ​Your Cat
​Use a bath, sink or container where you can comfortably shampoo the cat. If the bath is too deep for you to comfortably reach down to shampoo the cat, a laundry sink or bathroom sink will be a better option. ​You​ need to have good control of the cat.
​Place a non slip mat or towel on the bottom of the sink or container so your kitty is not slipping around.
​If he slip​s around he is likely to freak out and want to run for the hills. If he is showing signs of aggression protective gloves are useful for all cat grooming including trimming nails, bathing etc. The veterinarian nurse at our clinic used to get out the protective gloves to handle our cat when​ he ​was younger and ​not too pleased about ​visiting the vet for an injection or blood test.
​​Fill a container with ​warm water, not too much, several inches ​is fine.
​If you have a helper he/she can use a pitcher to gently wet the cat's fur so that you can apply the shampoo. Use warm water to rinse the shampoo as required. If you have a detachable shower head that would work really well to wet the cat and rinse the shampoo.
​​Have several towels ready to dry kitty as best you can. By this time he may just be wanting to disappear but he will be flea-less, so he should be thanking you. I wouldn't count on any thanks but you never know.
Is Cat Flea Shampoo Safe To Use?
​Cat flea shampoo does contain chemicals. The plus is that the chemicals are washed off the skin.

It is generally recommended that cat flea shampoo not be used on kittens under twelve weeks and up to one year old. So if you have a kitten under twelve weeks old, purchase a flea shampoo that is specifically for kittens.
​More "Flea" Reading...

​The Seresto Flea Collar Is The Best Flea Collar For Cats

The Seresto Flea Collar is not greasy​. It has a slow release of product th​at is active for for 8 months.​

​Looking For A Flea Comb? ​

A flea comb ​is an excellent part of ​a flea treating regime.​ ​Often cat owners will use another method for the main form of control and use a flea comb as ongoing maintenance.
​Kittens Can Get Fleas Too

​If the kitten is less than 6-8 weeks old do not use conventional flea treatments. ​ There are other things you can do.​ ​